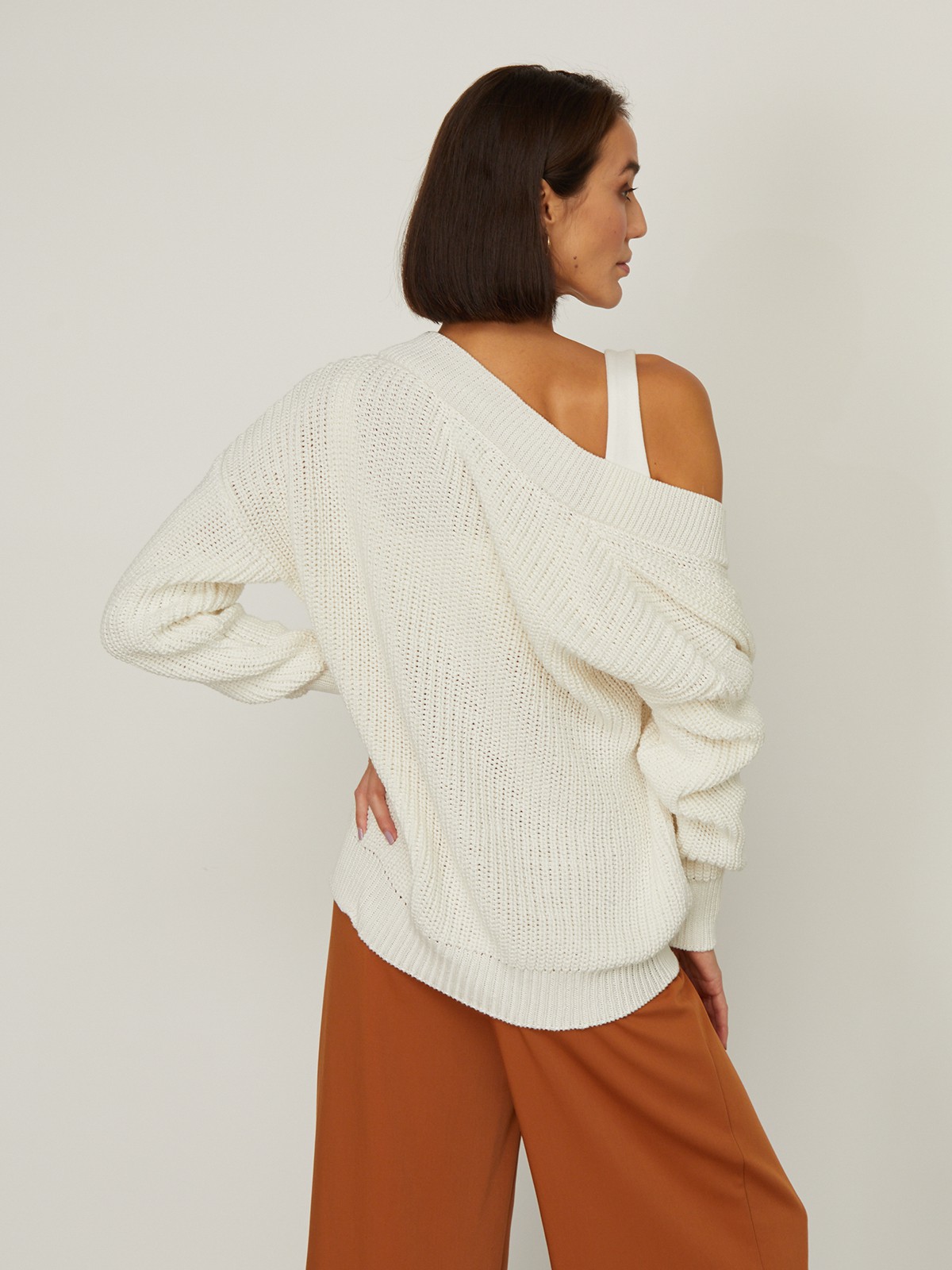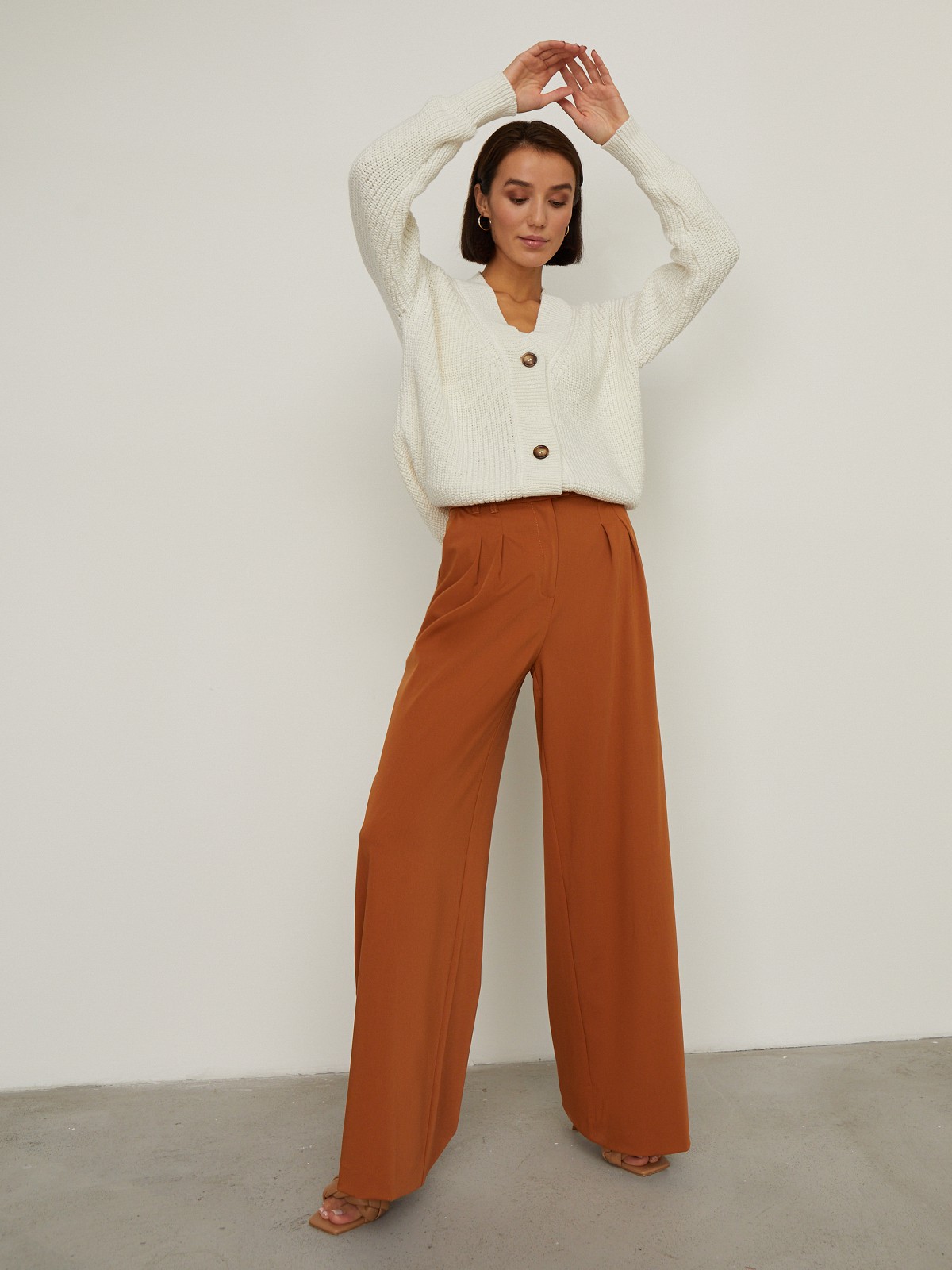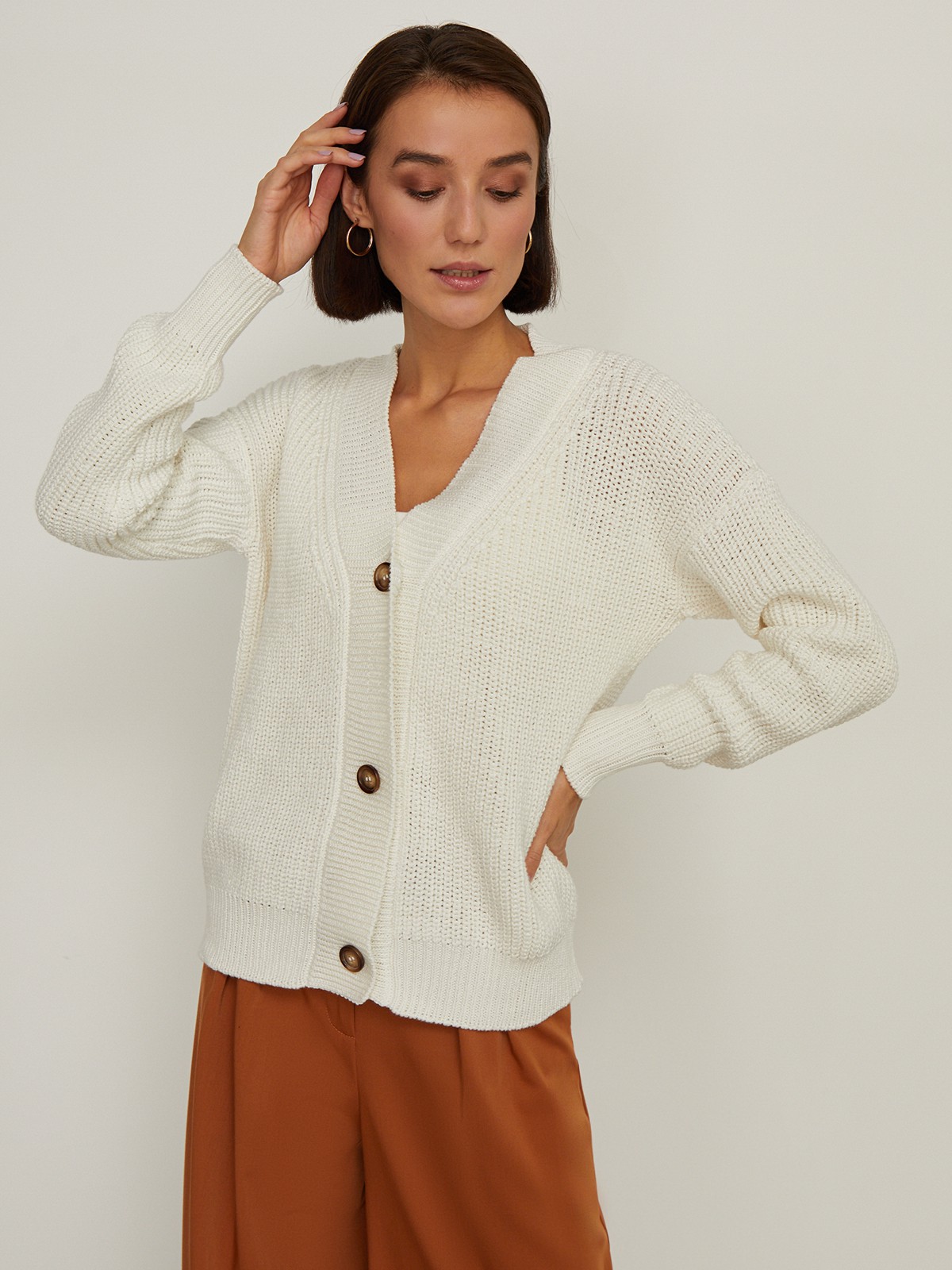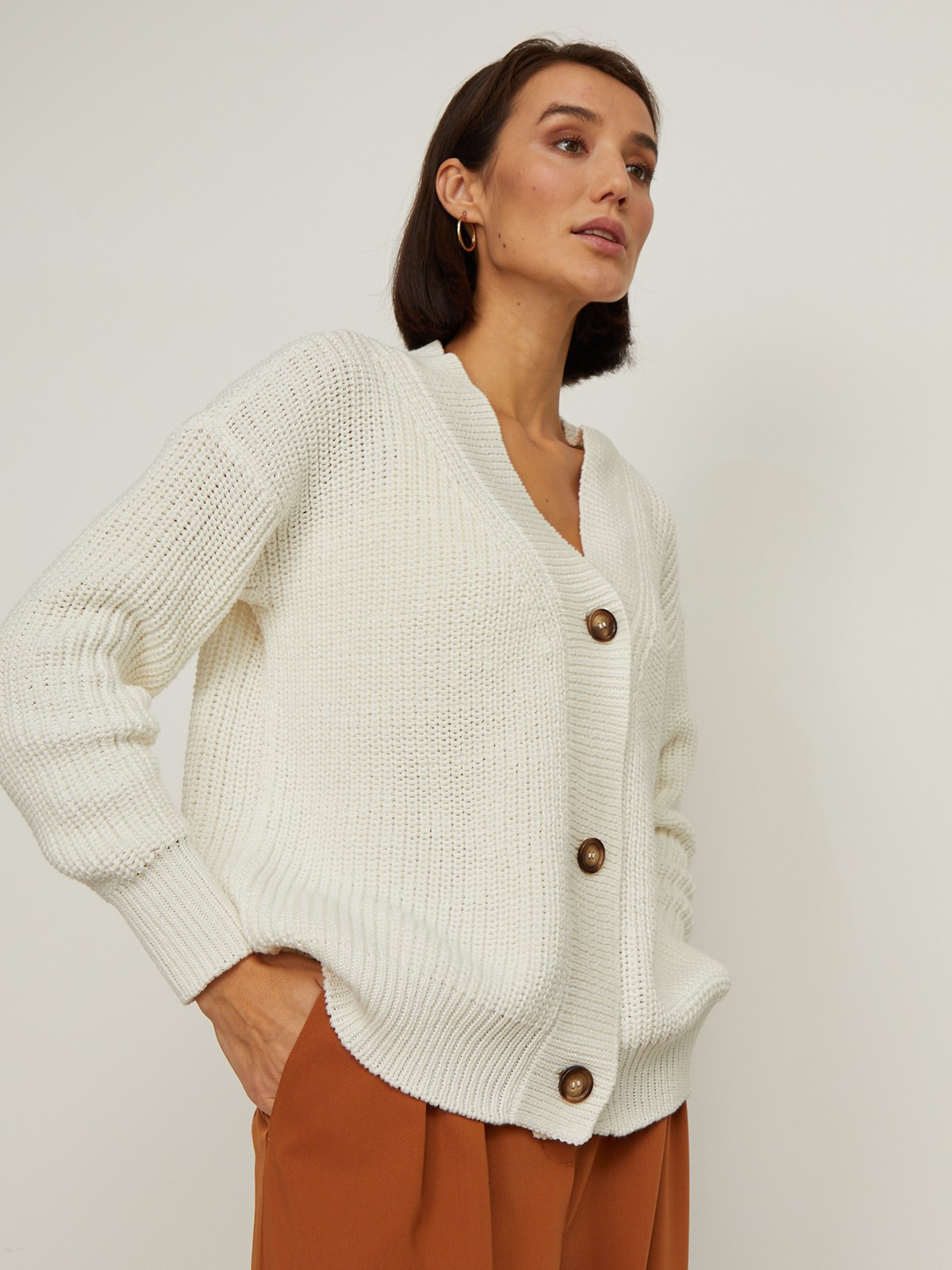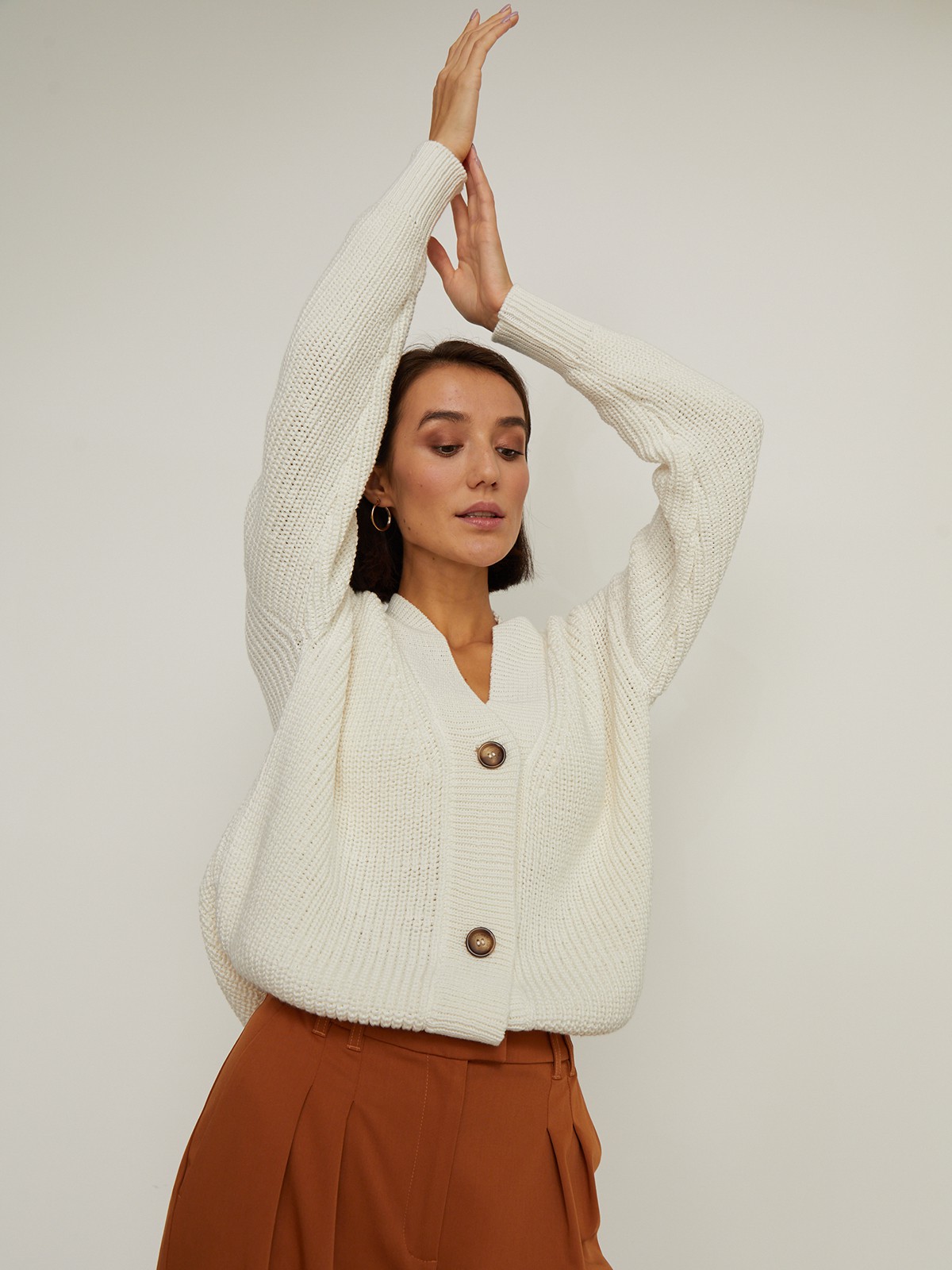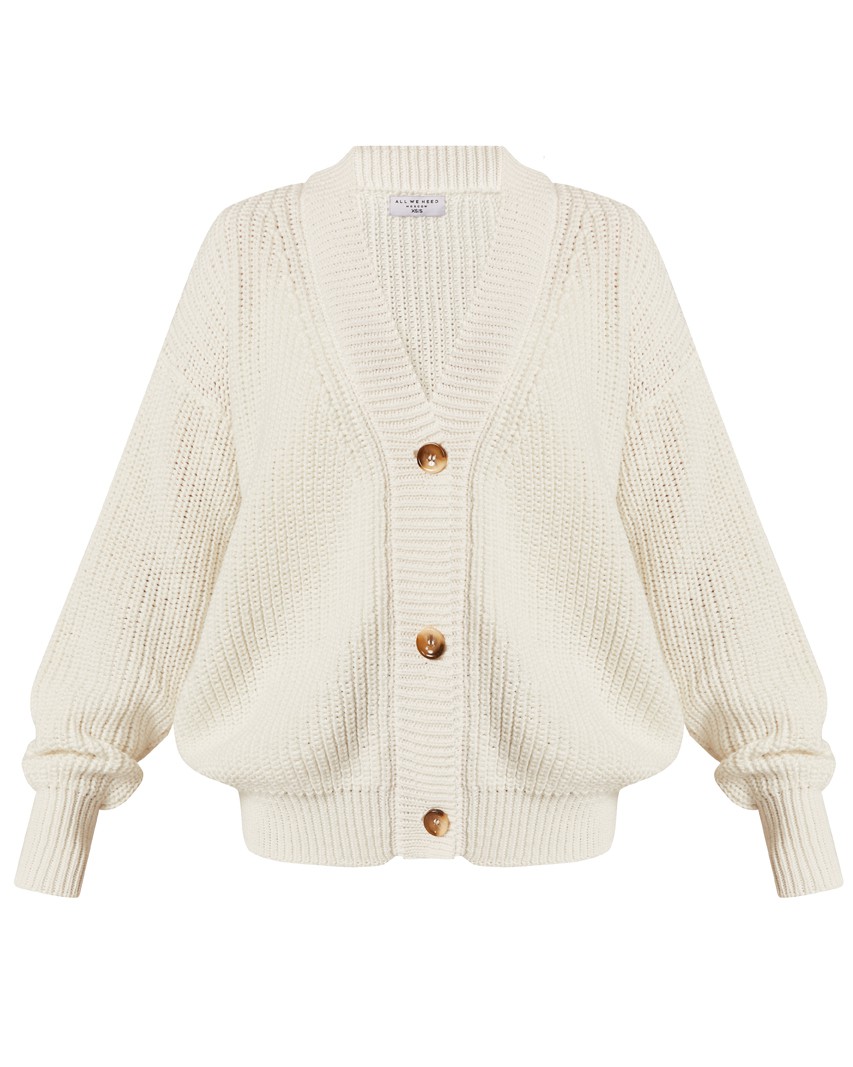 sku SS20SW016
Cardigan with a button placket
1 298 Р. / apx. $24.32
6 490 Р. / apx. $121.62
-80%
one size
report on receipt
Find your size
Description and composition
An oversize cardigan with a V-neckline and a dropped shoulder line. It features a three-horn-button closure and will finish off a cozy camisole top or t-shirt look.
Model is wearing a one size
Composition
70% cotton, 30% acryl
Care instructions
1. hand wash at 30℃
2. do not bleach
3. Iron at a maximum temperature of 180°C
4. do not wring out or tumble dry
5. dry clean with any detergent
Item measurements
| | |
| --- | --- |
| | ONE SIZE |
| Arm span, cm | 116 |
| Bottom width, cm | 90 |
| Front length, cm | 60 |
Model measurements
| | | | |
| --- | --- | --- | --- |
| Height | Bust | Waist | Hips |
| 175 | 88 | 59 | 88 |
Where to buy
one size
Delivery and payment
Payment
- Orders without fitting are 100% pre-paid
- You can choose PayPal or card payment online

See more in To customer
Delivery
- If you buy more than 10,000 rubles, delivery will be free.
- Delivery cost in case of complete refusal or redemption of things for less than 10,000 rubles. - 350 rubles.
- In the Moscow region - 350 rubles.
- In Russia: When the ransom amount is more than 10,000 rubles. - delivery is free
- CIS- from 890 rubles.
We will gladly answer your questions: WhatsApp/Phone +7 (903) 66-7777-8
See more in To customer
Returns
If the purchased item does not fit, you can return or exchange it within 14 days since the day of purchase/delivery.
To return/exchange an item:
— fill in the returns form attached to the parcel that the item was delivered in.
— ship the item back to store by courier service of your choice. The shipping cost is fully covered by the client. For purchases within Moscow you can ship the items back using our local courier service. The shipping fee is 500 rubles.
— for returning orders please use this address: 107045, Moscow, Bolshoi Golovin pereulok street, building 3/2, ltd. "All We Need".
Reviews
Наталья
Так долго ждала этот кардиган) Но это того стоило. Мягкий, классный. Нужного объема и нужной длины. А цвет это отдельная тема! Спасибо любимому магазину.
13 июля 2020
Моника
Что не покупала, отличного качества и сидит хорошо! И кардиганчики, и пиджак, и пижамка) Обожаю, спасибо!
29 июня 2020
Наталья
Получила от Allweneed три вещи юбку миди в цвете кэмэл, кардиган из хлопка в молочном цвете и палантин в изумительном оливковом.Решила все поносить, а потом написать отзыв.Юбка подошла на об-104 в размере L, ходить и сидеть в ней очень комфортно,кардиган тоже очень понравился на мой 44-46 сел оверсайз и в нем очень тепло, несмотря на хлопок,очень красивый цвет скорее молочный. Надеюсь после стирки катышков не будет.Палантин мягкий, хорошо драпируется, а цвет мой любимый к моим рыжим волосам просто сказка, цвет как на фото. Огромное вам спасибо за такие вещи.Я теперь ваш постоянный клиент.
24 мая 2020